Sylvester Peter, Founder of My Angels Academy 
Age: 42
"I was born in Chennai, but my eyes opened in Delhi. I have stayed in Delhi all my life. I started going to a Christian Convent School, but I was soon pulled out from there and admitted in a government school called Delhi Tamil Education Association. My mother wanted at least one of her four children to learn Tamil, and I was the chosen one.
"When I was in Class 4, there used to be this boy in my class who would come to school in as disheveled a state as was possible. His hair was never combed; his uniform was always unironed; and often pockets and buttons from his shirt were missing. This one time he came to school absolutely neat and clean, I asked him what the occasion was. He was very happy to disclose that it was his birthday. Naturally, my next question to him was where his birthday party was. He didn't know what 'party' meant, so I told him it's when you cut the birthday cake, invite friends over to your place and make merry. He started laughing, and said these were things that only belonged to Doordarshan's then popular show Chitrahaar. I couldn't relate to why he wouldn't host a birthday party. I asked him if it was because he had a stepmother who wouldn't let him; he shook his head and answered my query in negative.
"Upset and furious over the idea of my classmate being deprived of a birthday party, the first thing I told my mother on seeing her that day was that my friend's parents were very bad. Without saying or hearing a word more, she slapped me. She said I was too small to criticise anyone. Between sobs I told her that he's never celebrated his birthday and that he didn't even have a stepmother.
"At that time, I didn't understand the gravity of being poor. No birthday party seemed like a big deal to me. On hearing my complaint, my mother hugged me and explained the concept of poverty to me in a very beautiful manner. One of the things she said was 'Cakes? Presents? Is that what you think your friend is missing in life? There would be times when he wouldn't be able to have two square meals in a day, birthday celebrations is a luxury he can't afford. He will not even be sitting with you after Class 7 or 8 because he'll be working a job to support his family.' That day, I didn't just see poverty, I felt it. It was something my friend was living in front of me day in and day out
"I decided to forgo lunch from that day onwards. I would take a little extra food in my lunch box, but would distribute it all among my poor friends. About 35 of the 40 children in every class belonged from a poor family. When my mother learnt about this in Class 9, she hugged me and wept.
"I was in Class 7 when I decided to do something for children who don't come from economically sound backgrounds. I started with small things like telling my peers that I'd play with them only if they had bathed that day, or that they could have my pencil if their nails were clean. This one time when I was in Class 10, I took a handful of chocolates with me. On announcing to the class that I had chocolates in my hand, they all started snatching it away from me. I asked them all in a loud voice if they were beggars; they all took a step back.
"I wanted to instill a sense of self-respect in them and help them lead a life with ways that commands respect from others as well. I was 13 years old when I decided to groom underprivileged children and share with them whatever I'd learnt in life. I started taking academic tutorials, playing sports with them, teaching them the importance of discipline and hygiene.  I started channelising my energy into making them better persons from a very young age, but it was only in 2009 that My Angels Academy was formally registered.
"I started the academy with about 20 children; I wanted to involve as many children as I could in sports. The idea of children dropping out to work at an age when they should be playing was unacceptable to me.  And there is so much that could be learnt and experienced by practicing a sport – punctuality, teamwork, the joy of winning, accepting defeat, patience. I also managed to drive them to stay fit and encourage them to willingly withdraw from negative activities (like substance abuse, begging, etc.) thanks to sports.
"As a kid, when I would play and interact with the slum kids, a lot of my neighbours used to turn up at my home to complain to my mother. A few of them shared with her a psychiatrist's coordinates; few thought that someone had cast a spell of black magic on me. It hurt my mother; she often cried. Neither her, nor anybody else in my family encouraged me back then. They'd keep saying that I can do all this later in life and that I should focus on my education.
"To say that I have been discouraged from pursuing my ambitions of successfully running the academy to help slum children is an understatement. I've had the police call on me, been at the receiving end of a lot of societal nonsense and been threatened multiple times. I think I was dissuaded so much because of the perception that people from urban classes hold of the ones from the rural background, that of them being a threat to the society. Also, inflated egos of the urban class makes them believe that the poor in our society have no right to come near or play in the same spot as their children. My standard response to everyone used to be that playing is every child's fundamental right.
"The academy is self-managed and has about 140 angels associated with it as of now. Around 90% of my angels were once beggars, today not one of them begs for a living. Around 30% of them were drug addicts, today they're all clean. I am very attached to each one of them. I address my students as angels because I believe each one of them is as pure as an angel. This is how the name of the academy came about. And because I wanted everyone to feel connected to the academy, I added 'My' ahead of 'Angels' and named it My Angels Academy.
"I believe that a combination of love and logical discipline can do wonders. I try being as approachable and accessible to the children as I can. It has to be a two-way engagement. For instance, I don't impose anything on them that I don't follow myself.
"I and my angels wake up at 3:30am every single day to do yoga and train in football. Earlier we used to train at such an early hour because of how much people were interfering, but now we do it because the roads and grounds are vacant. We don't have a gym or any other fancy infrastructural facility, but my academy has some of the best sportspersons. One of my angels got chosen by the Liverpool International Football Academy, but he couldn't go because of financial constraints. Two other students got selected to fly to France to train at the FC Metz Club.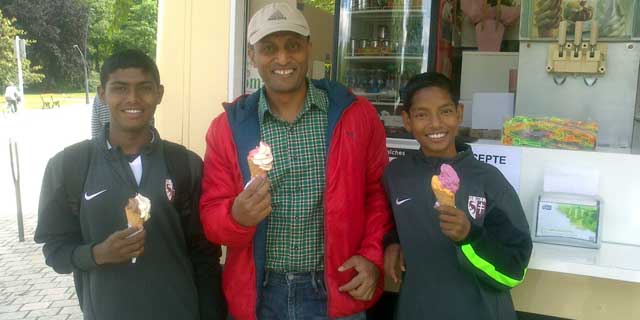 "Football is gradually becoming popular in India, and I hope that this sport will generate more employment opportunities in the coming years. My angels have been working as coaches, referees, and field boys in the local tournaments that help them sustain their livelihoods. I sincerely hope that government agencies will make all efforts to boost football in future.
"And because being fit plays a huge role in sports, I am forever sharing simple, healthy and cheap recipes with all the children. I say with utmost pride that none of my angels consume fast food. I'm forgetting the name of the forum, but the nutrition regime that the academy follows was discussed at an international panel in Vietnam.
"This is a unique academy where we believe that there is one God. No school will teach this. Government schools, anyway, are a waste of time. I am only letting these children go there because I can't give them a school passing certificate. Ask anyone here, they'll all echo that they do nothing productive in school. They've learnt way more over here than at school. There will soon be a day when my children won't have to go to school just for the sake of a degree. I will do something to beat that system. Even admission in government schools is so tedious. One of my angels had moved here from Bihar after his hut was blown away by a flood. The government school kept insisting for all sorts of documents that were washed away.
"I am an action-oriented person and can claim with pride that I have achieved a lot with these children in the academy. People keep wishing for things, we have collectively worked towards our wishes and achieved them. I hope to convert the academy into a residential one and reach out to more and more underprivileged children across India."
– As told to Tania Goklany. Sylvester Peter is the founder of My Angels Academy and a motivational speaker & counsellor by profession.