Tapping Sunshine to Generate Electricity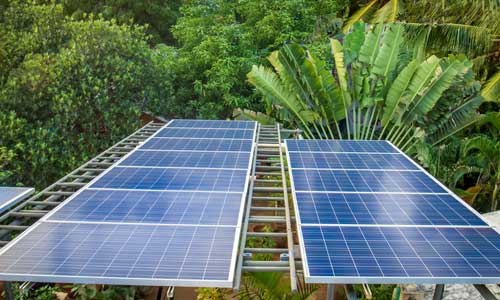 Photo courtesy: Sunmeister's official website
We all want to breathe clean air. But what are we doing about it? It is no secret that the generation of electricity via coal-fired power plants is one of the biggest contributors to air pollution and climate change. These power plants release greenhouses gases in abundance that degrade the environment and severely affect the health of people. Emissions from coal plants in India resulted in about 80,000 to 1,15,000 premature deaths and more than 20 million asthma cases in 2012, according to a report jointly published by Conservation Action Trust, Urban Emission and Greenpeace India in December 2012.
Now, we cannot imagine our lives without electricity. But that doesn't take away from the fact that we are responsible for the air we breathe. And so it is time we take matters into our hands and do something about it, like our innovator – Saswat Das.
33-year old, Saswat Das, is a Chennai-based Marine Engineer by profession who started to dabble with solar energy couple of years ago.
"I had always been inspired by the pioneering work of my uncle, Dr. Brahmanand Mohanty. He's part of the Asian Institute of Technology's (AIT) visiting faculty and has a solar-powered home in Pondicherry. My father-in-law once spoke of solar panels for electricity and that's how I decided to do something about it", he adds.
Change begins at home was the thought that drove Saswat. He first did an energy audit of the electricity consumption in his house in Chennai. The energy audit helped him identify the areas where he could cut down his electricity consumption, utilize his appliances more efficiently and may be even invest in more energy efficient gadgets and electronics.
After this first step, Saswat moved to looking for ways to cut down his dependence on conventional and highly polluting sources of power, by going solar. He invested in a solar installation that could generate upto 3KW of electricity and work in tandem with the regular power supply provided by the state electricity board. Basically, he did not go off the grid and stayed connected to the conventional power source to meet his electricity needs after sunset. But what he and his wife have managed to do is shift a bulk of their electricity consumption to solar.
"We had to choreograph some of our electricity usage, say things like washing of clothes or heating of water and use of certain other electrical appliances were scheduled for the day time so that we could tap solar energy for these activities. Over a period of time things fell into a schedule and some of these power intensive activities have now completely shifted to solar energy," says Charitra, Saswat's wife.
In reworking the schedule of their household activities to ensure that a large chunk of their electricity needs are met by the solar installation during the day, the couple brought down their dependence on conventional state electricity board drastically, hence cutting down their electricity bill.
Currently, the Das household relies on the regular electricity supply only for the evenings. But that's not the only good news. States like Tamil Nadu that are blessed with sunshine for most of the year have also embraced a concept called Net-metering. Under this concept, the excess power generated by a solar installation, essentially the power generated from the sun that isn't consumed, can be exported to the grid and the state electricity board compensates the producer who is exporting this excess power to the electricity board in its billing.
For example, Saswat's solar installation can generate upto 3KW units of power, but not all of is utilized by his household during the day, so the remaining unused power can be exported back to the grid, which is something that Saswat's solar installation has been consistently doing. The benefit – what Saswat is exporting to the grid is far higher than whatever he uses from it during the evening. As a result, he has a power surplus and he doesn't have to pay anything to the state electricity board, no, not even for the electricity he uses from the grid in the evening.
So, for the last one year almost, not only has Saswat cut his dependence on conventional power from the state electricity board, by going solar – but he has also managed to generate extra power and return to the grid. In the process he has ended up with an electricity bill of zero rupees.
So, what is the flip side?
"The cost of installing a solar panel was quite high. And I wasn't even home a lot to reap its benefits. But, I wasn't looking for any sort of a payback when I'd put up the plant. I did it to comply with international standards  and wanted this to be model to inspire people to do the same", Das says.
The approximate cost of installing a 1KW solar system connected to the grid is around Rs. 80,000-1,00,000, says Aruna Kumarankandath, programme officer​ at Centre for Science and Environment's Renewable Energy Department.
"To use a solar panel in isolation, one would need to install batteries for storing the excess power generated during the day which can be used at night. These batteries need to be bought separately and add to the cost", says Kumarankandath. Although, there is no restriction on what or how many appliances can be connected to the solar plant, it will have to be big enough to cater to all the demands of the household. This will also depend on the size of one's rooftop; it has to be huge enough to accommodate a big enough plant.
Solar plants drastically reduce the electricity bill. One can save all the money that was being paid for the power being used from the grid. "Conventional power is going to get more expensive. Since coal and natural gas are non-renewable depleting resources, they are going to get more expensive in future thereby increasing electricity prices in India. By installing solar panels, people can start saving up", adds Kumarankandath.
However, the cost of the panel remains a major deterrent. "As of today, rooftop solar plants are an expensive alternative. Good news is that the government is trying to reduce the costs and make it easier for individuals to get loans to install them" says Kumarankandath. There are subsidies available, but Kumarankandath and Das both echo that the bureaucratic hassles involved in the installation prevent a lot of people from doing it.
The panel has a long life since it doesn't come with too many mechanical parts.  Additionally, a solar panel is a decentralized source of power. With solar installations located in close proximity to the site, there is barely any transmission loss. About 99% of the electricity produced via solar panels is available for consumption while there is a 30% transmission loss in the case of coal-fired plants. Rooftop solar projects will help reduce the burden on power grids and dependence on diesel generators that many commercial and residential buildings use. It also has the potential to create economic value for unutilized rooftops.
Das wanted to make a difference. He wanted to do something meaningful and contribute positively to the future of the nation. So, he extended his personal experience of going solar to help others around him to make the switch. What started with helping family and friends go solar, has now gone up to 20 projects in the last 2 years and has resulted in a start-up that goes by the name Sunmeister.
"Every solar panel we install feels rewarding. We are growing organically and no megawatt plans. There is nothing like meeting a client one year down the installation and hear them talk about the effective change in their electricity costs and take pride in being solar powered", he said. "I think every solar rooftop we may have installed may have postponed a bit of forest from being devoured. It is one of the best alternatives to generate electricity. But, the first step towards this has to be reducing our energy requirements", Das adds.
Saswat is now opted for yet another change to his lifestyle by opting for an electric vehicle. With zero electricity bill, he felt it was the right time to invest in a second hand Reva and see if he can further cut down his contribution to air pollution.
"If I'd followed the national course of my profession for the next 20 years, I would've been yet another person who worked, achieved, got consumed and retired. This was my chance to do something different", he says.
Desperate times call for desperate measures. But Saswat believes that it is simply about opting for sustainable means to meet our ever growing demands. For the world to be a better place, the change has to start with each one of us looking to adopt that sustainable option.