Innovators' Diaries: Low-Smoke Chulhas to Fight Indoor Pollution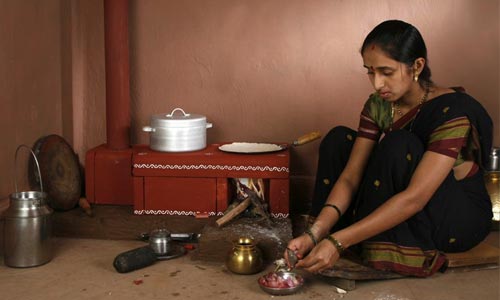 Over 140 million households in rural India cook their meals on chulhas, a stone, clay or cement stove that is lit up using solid fuels like wood, cow dung, charcoal or agricultural waste.  The smoke that rises from these traditional cook stoves deteriorates the quality of air and affects the health of the people.
About one million people die across the country every year due to pollution caused from burning solid fuels, according to a study by the Lancet Respiratory Medicine Commission, London.
Cooking on chulhas puts at risk the lives of many, but the most affected are women, who spend a substantial amount of time cooking on it, and children who spend most of their time indoors around it.
Smoke From Chulhas: Biggest Killer in Rural India
Enactus, a group of 47 members from Indian Institutes of Technology (IIT) Delhi took up this cause. While working in the Bhatti mines in Delhi's Chattarpur area, they realised the smoke rising from the traditional stoves was a critical concern that needed to be dealt with. After thorough research, they came across a stove being made by Philips that seemed like a solution to indoor pollution. They started spreading the word on the harmful effects of cooking on chulhas and encouraged the community to use the Philips stove. "We failed in marketing the stove. It was then that we came up with the idea of manufacturing low-smoke stoves and employing women in the process", says Anurag Gangwar, one of the team leads for this project.
Called Project Aanch, this stove also works on wood and cow dung to produce heat, but significantly reduces the amount of smoke it emits in comparison to chulhas. It uses about one-third of wood a chulha consumes and ensures complete combustion of wood and comes with an attached chimney to direct the smoke outside the home.  The chimney is typically 10 feet tall and costs about Rs. 180-200 depending on the demographics of the house.
"During assembling of the stove, we make sure that all the edges are carefully sealed. We plug holes, if any, with mud to prevent the circulation of the smoke from the stove indoors", says Gangwar. The manufacturing cost of the stove is Rs. 450 and its selling price is Rs. 650. The profit made on each stove goes to the women manufacturing it.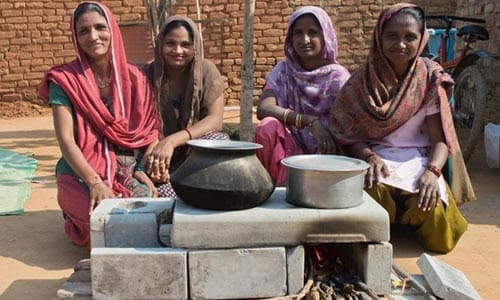 The first stove was sold in the month of January in 2014, and since then, they've sold around 500 of these.
However, there is one thing that seems nagging about this project, that is the use of wood, which is an exhaustible source of energy. On being asked if they have thought an alternative, Gangwar emphasises that the stove can work just as efficiently on cow dung as well. He goes on to say that rural India is not yet ready to adopt alternative technologies "We conducted surveys on solar cookers as well and realised that people in rural areas aren't quite ready to embrace such alternatives. We are now prototyping a device which would utilise the heat generated from the stove to produce enough electricity to light an LED lamp and charge a phone. This added utility, along with the fact that the stove does not consume much wood, will overshadow the detail of wood (an exhaustible source of energy) being used", he adds.
Enactus' commendable effort has also been recognised and lauded with a couple of awards. Project Aanch won the Walmart Women Economic Project in 2015 and the Amazing Indians award by Mahindra Rise in 2014.