India Needs to Seriously Tackle Rural Indoor Pollution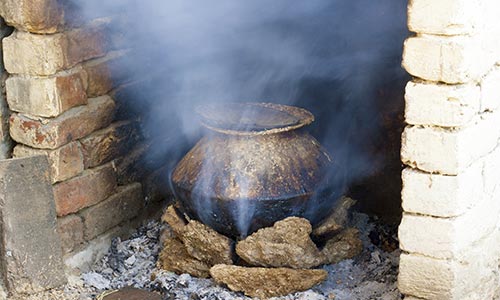 On August 15th, Independence Day speech from the ramparts of the Red Fort, Prime Minister Narendra Modi thanked 20 lakh Indians, the 'Team India' that voluntarily gave up its subsidy on cooking gas. Mr. Modi said the participation helped saved the government 15,000 crore in a year. The Prime Minister said it was the common people and not the rich who have come forward to help light up kitchens in rural India.
The 'Give It Up' campaign, was launched by the Prime Minister in April this year and has been aggressively promoted with huge posters at petrol stations, advertisements in various media, celebs talking about it and word of mouth has made the phrase Give It Up trend online. The Ministry of Petroleum and Natural Gas has created a website to help people understand how they can give up the subsidy on cooking gas. The website says 'you are aware that LPG is a highly subsidized commodity in India and the subsidy burden was more than Rs. 40,000 crores during 2013-14.'
In his I-Day speech, Mr. Modi said, 'we got the LPG gas subsidy under direct cash benefit transfer. We used the Jan Dhan Yojana and Aadhar cards. Because of this middlemen and black marketeers have been hit," he said adding "we corrected the system and Rs.15,000 crore, which was stolen every year in the name of gas subsidy, has been saved.'
But a tiny village in Ranga Reddy District in Telengana hardly has households that use LPG. 21-year-old Sumalatha does NOT know what LPG means let alone the government's pet project. Timapur village is just some 50 kms from Hyderabad but households here do not have access to clean fuel. Most houses simply burn wood or gobbar as fuel to cook food. The second year BCom student cooks food for her family of 10 on a mud chullah. The men bring back wood from a forest on their way from the fields. Sumalatha spends almost 6 hours on an average everyday to make meals in the morning and evening. A ritual that she does not look forward to beacuse it makes her choke and cry. "It's diificult to do this. My eyes burn and when I blow into the pipe my chest pains. But I do not know of any other alternative to cook" she says wiping off the sweat off her face.
The tiny kitchen is pitch black. The soot from the smoke lines up walls and the roof. A tiny little window high up is the only outlet for the smoke. Sumalatha faces the same problems as her mother did. Visits to the doctor, help temporarily. The smoke brings back the cough and chest pain.
According to the 2011 Census, an estimated 142 million rural homes that's almost 85 per cent of total rural households in India depend on traditional biomass fuel for cooking. 45 per cent of total rural households do not have electricity. They use wood and kerosene to light up homes.
This makes India the largest consumer of fuelwood and biomass. Greenhouse gases emitted by such fuel alongwith other sources of pollutants add up to gigantic proportions, making India the third largest carbon emitter in the world after the United States and China.
Smoke From Chulahs: Biggest Killer in Rural India
The impact on the environment is huge and so is it on human health. Data from the World Health Organization states that 4.3 million deaths occur globally from indoor air pollution each year. 1.3 million deaths occur in India alone due to indoor air pollution, every year from smoke from cooking, heating and lighting activities.
A doctor at a primary health centre in a nearby village, says the health impact of burning wood is usually overlooked beacuse people in villages are not aware of it. Dr. TC Sandhya says, 'I daily encounter 10 percent of the population suffering from one or the other form of respiration problems. And its not just health, there are accidents especially in summer because houses are made of wood, the fire spreads. Women come in with burn injuries.'
But the chulah system is not a problem in India alone. Developing countries the world over are grappling with the issue. To address the problem, The Global Alliance For Clean Cookstoves is a UN initiative launched by former Secretary of State, Hillary Clinton in 2010. The alliance has an ambitious 10-year goal to reach 100 million households in developing countries by 2020. The private-public partnership set up across 8 developing countries includes India. The Initiative hopes to given people access to cleaner fuel till LPG is available to all.
Brian Smith, CEO of The Global Alliance For Clean Cookstoves says the biggest worry is awareness. 'There is a lot of attention on HIV AIDS, Malaria, family planning and very little on this issue. Infact globally WHO estimates that there are over 4 million die annually attributed to house hold air pollution so that's actually more than HIV AIDS And Malaria are combined,' he says.
But LPG connections don't come easy in villages like Timapur. Few houses approved by the Panchayat sarpanch have one. Other's like Sumalatha's family are still awaiting a connection. As per the 2011 Census, LPG penetration in rural India is only around 13 per cent. While 50 per cent households in the country own televisions only 28% in both urban and rural India have LPG access.
A woman sarpanch has made all the difference in Rachaloor village in Ranga Reddy district. Of the 1000 homes here 90 per cent have an LPG connection. She approached the local MLA after she suffered health issues due to continued use of the chullah. 'As a woman I know how hard it is to cook with wood. My husband and I approcahed the MLA and then a minister who helped us get the connections. Its good to have an alternative to burning wood, ' says Jayamma, the sarpanch of the village.
But where there is availability, affordability plays a key role in rural India. Wood is often free and a gas cylinder comes at a price…
In a village in Haryana, Bala has had an LPG connection for 22 years now. But she still prefers using the chullah despite the fumes, the smoke and the heat. The women at home make fuel from cow dung and use it as fuel to cook. 'There are many homes that use gas facility. But we do not use it on regular basis. We use it when we ahve guests at home and when we ahve to make a quick meal. We do not prefer gas to cook especially roti's. It's just more tasty,' she says as she applies ghee on the rotis she has made on the chullah.
Breathing problems aside, studies also link air pollution to stillbirths. A WHO report based on a study found that consistent exposure to solid fuel smoke can cause Low Birth Weight and Stillbirths. The study concludes saying although the body of evidence is still relatively small, the findings are consistent with studies on exposure to outdoor air pollution.
With the impact a daily ritual like burning wood can make on the environment and our health, is the Give It Up Campaign to bridge the gap in supply of clean fuel to rural India? Anumita Roy Choudhary from the Center for Science and Environment feels the campaign is a good initiative but something more aggressive is needed. 'It's fine for the government to ask rich people to give up their subsidy. But what about innovative methods. We have started a massive solar distribution system. We needn't depend on coal. We can have innovative methods using the solar panels and each village can have its own solar grid,' she says.
Finally it all adds up to three things– awareness, availability and affordability — all three crucial factors that India needs to address if it has to tackle Air Pollution and fight Climate Change. So, its not enough for the government to ask LPG users to Give It Up. Maybe it's time to commit and work out strategy where rural households in India don't just depend on the benevolence of others to have access to clean fuel.