How Green Buildings Can Reduce Your Carbon Footprint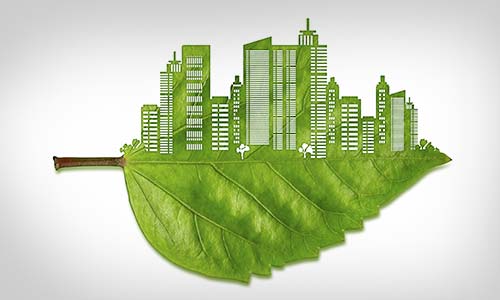 The strain on natural resources like air, water, land is threatening the very lives whose insatiable demands led to this crisis in the first place. In the race to accommodate more people in more buildings, the frantic pace of development has destroyed conventional wisdom that earlier ensured a sustainable lifestyle.
According to a recent report by the Intergovernmental Panel on Climate Change (IPCC), the consumption of resources in establishing buildings can be reduced by 46% by 2050 if the construction sector adopts more sustainable practices. The green buildings, thus, have tremendous potential.
What is a green building?
Green buildings – also known as sustainable buildings – refer to physical structures that are designed and planned in a way that makes them environmentally responsible and resource efficient.
These optimise use of resources like energy, water and produce lesser amounts of waste which is also managed properly, says Swati Gupta, project officer at the GRIHA (Green Rating for Integrated Habitat Assessment) Council. GRIHA is one of the few institutions that certify buildings as 'green'.
What are the parameters involved in constructing a green building?
A building cannot be certified as 'green' unless it meets certain criteria through its life cycle. "From planning its design, to construction, operation, maintenance, renovation and demolition, a green building involves the adoption of sustainable and efficient practices at all the stages", says Tania Banerjee who engages in climate change and advisory services in sustainability at Ernst & Young.
Here are a few techniques that make a building green: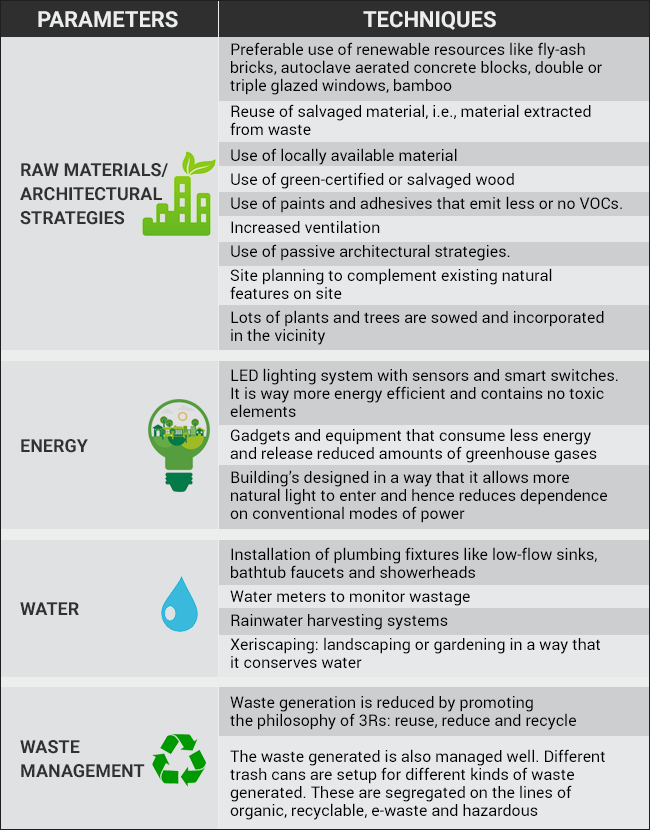 Do green buildings cost more?
If planned at the inception stage, green buildings do not cost a penny in addition. In fact, it may even save money by system downsizing and optimisation.
"Even if an additional cost is incurred, it is not more than 5% of the base price and the same recovered within 3 years of its operations", says Gupta.
Why hasn't the concept picked up widely yet?
Lack of awareness has been a major challenge. The builders and the consumers, it seems, don't have a comprehensive grasp on the concept of green buildings.  "The builders harbour the misconception that green buildings require a lot of investment on their behalf while the people who occupy the building reap the benefits", says Gupta.
Can an existing building be made green?
Absolutely! Even though the design cannot be changed to accustom to the natural features of the site or customised according to the specific architectural layout of a green building, an existing building can be made green by increasing the efficiency of resources like electricity and water.
A good example of this is the facility of The Energy and Resources Institute (TERI) in Delhi's Indian Habitat Centre. It switched to LED lights and witnessed a massive reduction in their power bills.
Need of the hour
The building sector is a big resource guzzler. "It consumes about 35% of global energy compared to other sectors like transportation, etc.", says Mahesh Ramanujam, COO of the US Green Building Council (USGBC) and president of Green Business Certification Inc.
This sector also contributes to one-fourth of the emission of greenhouse gases annually, says Gupta. The conditions will only worsen if the current construction practices aren't challenged.
Green buildings are known to reduce energy consumption up to 30-40% and water consumption up to 50-60%, says Banerjee. A case in point would be the study of Mumbai's One IndiaBulls Centre, a green building. "The building witnessed electricity cost savings of 25%, water cost savings of 30%, revenue generation of 1-2% rental premium, and carbon credits in 10 years of Rs. 90 crore, as compared to a conventional building", she elaborates.
Measures are also taken to minimise pollution at the site during construction. For instance, the site is barricaded to curtail the spread of dust and particulate matter.