Jury 2014
Prem Chandavarkar
Managing Partner, CnT Architects
An architectural practice based in Bangalore, India. CnT has produced award-winning and widely published work throughout its history, which stretches across generations to being Bangalore's first architectural firm.
Prem is a former Executive Director of Srishti School of Art Design & Technology in Bangalore. He is an academic advisor and guest faculty at architecture colleges in India and overseas. Besides his design practice at CnT, he writes and lectures on architecture, urbanism, art, cultural studies and education.
Vinita Chaitanya
Founder, Prism
Owning a Vinita Chaitanya designed home or corporate space immediately catapults you into an exclusive zone. Her design firm, Prism, is 25 years strong and brilliantly reflects her personal branding. Vinita's own homes and glamorous lifestyle give her an insider's edge into what ultimate luxury is all about.
Combined with a thorough mastery of her craft, she creates livable art. It is a collaboration of her clients' requirements with her artistic vision, into bespoke, sublime spaces. She describes her style as 'contemporary classic' – a euphoric blend of sumptuous silks, traditional paisleys, exquisite Indian artefacts and modern Western covetables.
She delightfully layers different cultures and periods and her travels give her fresh inspiration and inventory. This divine mixology is her USP. She creates a seamless design experience that flows right up to the infinity pool.
Vinita's work ethic goes beyond interior design to a unique vertical that defines her and separates her from the rest – her passionate involvement from concept through to delivery. This holistic vision starts from a bare shell to completing the home with not only furniture and fittings, but with a connoisseur's eye for art and accessories. This also extends to coordinating fresh flowers with crockery and linen and even lining up the bookshelves.
All that the stress free owner needs to do is walk in and attend his own housewarming party, which Vinita has even hosted on occasion! Over the years her clients have trusted and repeated her, for reinventing their current homes and styling new ones. Today, she may be the only top celebrity designer in the country to offer such personalised service.
A team of experts that include architects and structure and technical consultants – in all areas including HVAC and electricals – work alongside to ensure superlative quality. Prism prides itself on its unwavering commitment to timelines.
Regularly published in Architectural Digest (AD), it all began with their India inaugural issue that had her client Deepika Padukone on the cover. Recently Vinita was awarded the honour of being a part of the AD Most Influential 50. Elle Decor, Society interiors, Trends and Good Homes have all published her works.
She has also written articles on design for various publications like The Times of India, India Today and The Platinum Magazine of The Telegraph.
Sharukh Mistry
Founder Partner, Mistry Architects
An alumni of the Academy of Architecture, Rachna Sansad Mumbai, Is the founder partner of Mistry Architects, a firm started with his wife Renu in 1980, and has over 3 decades become a legend known not only for their sensitive architectural creations but as much for a sensitive architectural practice of sharing and caring.
Known for his integrity and inspirational leadership, Sharukh's tireless endeavor towards holistic architecture takes inspiration from his keen observation of man's interaction with nature.
The turning point in his career was when he built his own home with alternative materials in 1980. He still draws an inspiration from everything around him, be it a heap of garbage or a rainbow behind it.
His works range from Tsunami rehabilitation projects and SOS Children's villages to giant exhibition centres and luxury hotels. Yet Mistry and his team interact with every stakeholder involved, including stones, trees and reptiles making it unmistakably clear that Sharukh' s architecture definitely has a heart.
Their diverse practice include many noteworthy projects like
• The Wipro Corporate Campus,
• Rangashankara Theatre
• Award-winning homes for prominent personalities
• Three tsunami rehabilitation center along the east coast of India.
• Bangalore international Exhibition Centre.
• The SOS Children's Villages.
Sharukh today is one of the pioneers of green architecture spearheading the Green Building Movement in India.
He is the past chairman of the Indian Green Building Council, Karnataka Chapter.
He is the Core Committee Member and Director for -Green Homes Steering, and continues to be an active member.
He has been on several juries and has made numerous presentations to professional bodies both in India and in the U.S.
Gayathri Shetty
Founder Director, Gayathri & Namith Architects
After studying Architecture from BMS College of Engineering and a short work stint at Mistry Architects, Bangalore, Namith and I started our practice from our garage in 1993. Patashala at Sringeri, Manipal house, Tribal Housing at BR Hills etc are some of our early projects. Our design philosophy has always been to work closely with the client on helping them realize their dream. Our Designs almost always have nature wrapping the built spaces with no clear boundaries, where one flows into the other and interior spaces speak with Nature and are drenched with light. Our aesthetic approach and design sensibilities are deep rooted in Indianess and a very simple form follows function approach. We live Architecture at GNA. Our Team has grown to encompass artists, product designers, sculptors, lighting designers etc who we liaison with closely to enhance almost every project. We are now a Team of almost 70 professionals with our main office in Bangalore and another in Delhi.
We are recipients of 28 National Awards and International recognition in Architecture to date. These encompass Homes, Recreational, Hospitality and Commercial Categories. I speak at numerous Architectural Institutions, formal Groups across the country. We have also been deeply involved in giving back to Bangalore by being involved in the Revitalization of the MG Road Boulevard."
In addition, I render support to the Institute of Indian Interior Designers, Bangalore Regional Chapter as a Chairman. With belief in the adage, "A sound mind in a sound body," I don the role of the treasurer for Hockey Karnataka.
Sandeep Khosla and Amaresh Anand – Khosla Associates
Sandeep Khosla, Founder & Principal at Khosla Associates, studied architecture at Pratt Institute, New York, then returned to India to establish Khosla Associates in 1995. Sandeep developed a philosophy and design language which is still 20 years later, at the core of the firm's vocabulary and approach. Sandeep was picked by India Today magazine as one of the fifty men and women under the age of 35 from various fields of enterprise who are poised to be leaders of tomorrow, by Home Review magazine as one of India's eight leading designers and by Construction World Magazine as one of the countries' top 10 architects. Sandeep was included in Architectural Digest's list of the 50 most Influential names in Indian Architecture and Design 2014.
Sandeep has been a speaker at several international design conferences. Some of these include Kyoorius Design Yatra, Goa, 2011; 361 Degrees "Architecture of Purpose", Mumbai, 2013; India Design ID, New Delhi, 2013; Institute of Contemporary Arts, London, 2004. He is a judge and speaker at the INSIDE World Festival of Interiors, Singapore 2014, and shall present the firms' work at the ArchMarathon Awards, Milan 2014.
Amaresh Anand, principal at Khosla Associates, studied Architecture at the BMS college of Engineering, Bangalore. He joined the firm very early in his career in 1998 after interning with some of the other prominent architectural voices in the city. Over the past 15 years he has been integral to the evolution of the firm. He became an Associate in the year 2000 and is currently a Principal at Khosla Associates.
Amaresh's eye for design detailing and expertise in construction technologies has enabled interpreting the firms' vocabulary in new and innovative ways. Amaresh was awarded the Inside Outside 'Designer Of The Year' 2010 along with Sandeep. He was also the 'EDIDA' award 2011 winner in the furniture category for the 'Teapoy table' along with Sandeep and Tania Khosla.
Ambrish Arora
CEO & Design Principal, LOTUS (Delhi)
In the course of his working career of 30 years, Ambrish trained and worked as a boat designer before moving to Spatial Design. Thereafter he has worked in India and abroad on diverse projects in Hospitality, Retail, the Non-profit sector, Museums & Exhibitions and Cinema, before founding Lotus in 2002 along with Sidhartha Talwar & Ankur Choksi.
Lotus (www.studiolotus.in) is a multidisciplinary design practice which works in domain of Architecture & Interior Design. Its work has been Internationally recognized winning among others ; World Holiday building of the year at the World Architecture Festival & World Architecture News awards, a grand Jury Prize at the Design for Asia Awards, IIID Design Practice of the year two years in a row and a nomination in the Aga Khan Awards cycle 2013 among many others. The firm's work is grounded on the principles of Conscious design, an approach that celebrates local resources, cultural influences and a keen sensitivity to the impact of the project and process on all stakeholders.
Ambrish has an active interest in Design Thinking and Research. He has lectured extensively at various International design forums and has served as visiting faculty and juror at Design Institutes across the country. He is a member of the CII National Design Committee, on the advisory board of the Ansal University and has been voted among the country's most influential architects / designers by Architectural Digest in 2014.
Gurjit Singh Matharoo
Principal, Matharoo Associates (Ahmedabad)
Gurjit Singh Matharoo is the principal at Matharoo Associates, a startup firm that began operations in Ahmedabad, India in 1992.The firm since its inception has been involved in a diverse range of projects that have brought them international as well as domestic recognition, they are the recipients of a variety of distinguished awards such as:
2013– Elected an International Fellow of the Royal Institute of British Architect.
2011– Acknowledged by ETH, Zurich in their global observatory.
2011– Winner of the International Architecture Award by the Chicago Athenaeum.
2010– Winner of the AR House Award by the Architectural Review.
2009– Winner of the AR Emerging Architecture Award by the Architectural Review.
2006 – First Runners up in the WAN House of the Year Award.
2005– Honorable mention in the AR Emerging Architecture Award by the Architectural Review.
2003 – Editors choice in the AR Emerging Architecture Award by the Architectural Review.
The firm's standards are adhered to by an in house team of dedicated personnel in the field of Architecture, Structure, Interior and Product design leading to a holistic design approach coupled with innovation and acute attention to functionality and detail.
Gurjit Singh Matharoo besides his professional practice is also actively involved in academic work and has been a visiting faculty since 1991 at the Centre of Environmental Planning and Technology in Ahmedabad, from where he graduated and at the National Institute of Design, Ahmedabad for the transportation design course. He is deeply passionate about the mechanics and design of automobiles.
Krishnarao Jaisim
Founder Jaisim- FountainHead (Bangalore) 
Prof. Ar. Krishna Rao Jaisim is a name to be reckoned with in the field of Architecture. He is an Architect, Professor and Patron all in one.
Born in the year 1944, Prof. Jaisim completed his studies in architecture in 1966. His thoughts, ideas, and convictions draw inspiration from the timeless novel The Fountainhead by Ayn Rand. The compelling philosophy of Rand's writings compounded with the teachings and encouragement of Ms Sheila Tribe at the Madras School of Architecture shaped Jaisim's inimitable approach and passion towards his calling. Other sources of inspiration from the star-studded constellation that is Architecture include Mies van der Rohe, Buckminster Fuller and Geoffrey Bawa. Ultimately he formed his firm JAISIM-FOUNTAINHEAD in 1970.
Over the last four decades and more, Jaisim-Fountainhead has designed spaces in every arena of human life. With several award-winning designs to the firm and Prof. Jaisim's credit, the kaleidoscope of work includes stadia, resorts, homes, educational institutions, commercial spaces and much, much more.
Prof. Jaisim was most recently awarded the NDTV Award for Lifetime Achievement in April 2014. Other awards he has won include the Award for Dedicated Services in the field of Civil Engineering by CIVIL-AID in February 2012, the JK Cements Chairman's Award in August 2011, and the Award for Best Commercial Architecture by CNBC Awaaz Crisil Real Estate Awards in 2008.
In addition to being the Principal and Founder of a multiple award winning architectural firm, Prof. Jaisim is also associated with several institutions associated with the field of architecture, notable among which are: the Council of Architecture, the Indian Institute of Architects (he was Chairman of the Karnataka Chapter from 2007 – 2010), Practicing Architects Association, IIID, HUDCO, TERI – The Energy Research Institute, and he also sits on the boards of several colleges and schools of architecture.
Prof. Ar. K. Jaisim has authored and presented over 150 papers, and been published in national and international media. He has made over 1500 presentations on Architecture and related areas on just as many forums across the country and abroad.
Ranjana Mital
Professor, School of Planning and Architecture (Delhi)
Ranjana Mital has been teaching for over 25 years. Apart from architectural design, her subjects include history of architecture and initiating and guiding student research programmes.
Her PhD addressed QOL on the residential streets in New Delhi and has been the basis for further research and writing. She also researches on the Hindu temple in history and is deeply interested in temple design today.
She was awarded a Government of India, Senior Research Fellowship in 2005. She has been on the board of studies and design juries of various colleges and universities as well as served on the juries of architectural and interior design competitions at a professional level. She has several papers published in national and international journals to her credit.
Sanjay Puri
Founder, Sanjay Puri Architects (Mumbai) 
Sanjay Puri graduated from the Academy of Architecture, Mumbai in 1988 and established his firm SANJAY PURI ARCHITECTS in 1992. Completing an extensive range of projects including townships, software parks, residential buildings, retail malls, hotels and entertainment centers, the firm strongly believes in exploring new territories of design. Having already executed projects totaling over 40 million sq ft the firm is currently involved in over 200 projects in various locations in 40 Indian cities, Dubai, Mauritius, Spain and Montenegro.
Sanjay Puri was the first Indian architect to be a judge at the world architecture festivals , the first Indian architect to chair the Leading European Architects Forum , the first Indian architect to win the Mipim Architectural Review Future Project Awards , The Chicago Athenaeum Museum of Architecture & Design's International Architecture Awards, The Architizer A + Awards and a speaker at international architecture events in Barcelona, Belgrade, Verona, Amsterdam, Singapore, London, Venice .
Sanjay Puri Architects have now won 43 international architecture awards.
The Chicago Athenaeum Museum of Architecture & Design's International Architecture Awards in 2014, 2012 & 2011. The World Architecture Festival Awards in 2012, 2011 & 2010, 6 World Architecture Community Awards U.K and the Hospitality Design Awards New York 2012 & 2010 are some of the other awards won by the firm in last 3 years. With 43 international awards and 63 national awards, the firm has architectural projects in Spain, Montenegro, Mauritius, Abu Dhabi & Dubai, in addition to projects in 40 Indian cities. With a diverse portfolio of townships, schools, hotels, retail and office buildings, they continue their quest for creating innovative design solutions that are sustainable on a larger scale.
With a firm strength of 72, evolving design solutions that are contextual and creating spaces that revolutionize the way they are experienced form the essence of the firms design philosophy.
Shimul Javeri Kadri
Principal Architect, SJK Architects (Mumbai)
Shimul Javeri Kadri studied architecture in Mumbai at the Academy of Architecture, and Urban Planning at the University of Michigan Ann Arbor.
Egalitarian democratic societies, a deep respect for nature and living with it, and a fundamental belief in people and their connectedness drives her world view. This translates, to buildings that sit comfortably and naturally in their environments – in contrast to the mechanized boxes of today's global environment, that alienate people and nature.
Her interest in an architecture that is meaningful for the India of today, drawing from historical wisdom, but relevant and exciting for the vibrant Indian market, has led to an award winning practice that has commissions as varied as hotels for religious tourism, to a museum for Jainism, to an automobile design studio for Mahindra's.
Shimul also serves as a Trustee for Akshara, a women's resource centre as well as for Save the Children India where she has been actively steering education and women's projects. The firm and its work has been written about in various architectural publications in India and abroad, and felicitated widely for their work.
Ar. Kamal Malik
Founder and principal architect, Kamal Malik, was born and raised in Shimla in the pristine environs of the Himalayas, which till today remains the source of his inspiration.  He completed his architectural studies at the School of Planning and Architecture (SPA) in New Delhi.  With more than 35 years of experience, his attempt is to develop contemporary design syntax by approaching architecture as a synthesis of ecology and spirit.
His firm has won numerous design competitions as well as over a hundred National and International awards.
He has delivered lectures on diverse subjects and the practice has over 300 publications.
Soumitro Ghosh
Partner, Mathew and Ghosh Architects (Bangalore)
Educated at CEPT Ahmedabad, the principal architects / partners Nisha Mathew Ghosh and Soumitro Ghosh set up 'Mathew and Ghosh Architects' partnership in 1995.
Having designed and realized the most important public space / design projects and many of the best designed private projects in the city of Bangalore, Soumitro has been recognized for the  talent and work extensively through numerous awards, publications, has been invited to speak at public and institutional forums in India and abroad.
Soumitro has been teaching architectural design and there has been a lot of writing  about the professional work.  The practice bridges the real world of projects and the practice flows  into the realm of teaching as an extended space of teaching, learning & vice versa including the environment at the design studio.
Tony Joseph
Principal, Stapati (Calicut)
Ar.Tony Joseph completed his B.Arch from MIT Manipal. He had worked in Delhi, Bangalore and Auroville (Pondichery) before leaving for the US to pursue his post-graduation (M.Arch) from University of Texas, Austin, USA in the Charles Moore program. He came back to Calicut and started his firm, Stapati, in 1989.
Ar.Tony has made a mark for himself in the hospitality projects through his innovative and contextual designs and the hospitality projects that Stapati has designed are the most successful in their areas of operation. This includes the Kumarakom Lake Resort at Kumarakom, the Alila Diwa resort at Goa and the Radisson Blue Temple Bay at Mahabalipuram, to name a few. The Enchanted Island resort in Seychelles is yet another landmark project, which has recently opened to great reviews.
His works span across a very wide spectrum, with projects ranging from urban design schemes, master planning, mixed-use developments, premium hospitality projects, commercial complexes to residences, interiors and even product designs. Some of the large-scale projects that he has designed include the Hilite City in Calicut for M/s Hilite Builders & a mixed-use township for M/s Malabar Developers in Mangalore. Throughout all his designs is visible his unflinching commitment towards arriving at an appropriate architecture, one that respects the site and context, is functionally viable and one that is inherently sustainable.
Ar.Tony Joseph is the past chairman of the Calicut Centre of Indian Institute of Architects. He has interests spread over diverse fields and is a keen art aficionado, which is reflected in his collections from across the globe.
Stapati, under his able leadership has won numerous awards and recognitions over the years and was most recently selected as one of the top 50 most influential design firms in India by Architectural Digest in 2014. Again, in the same year, Stapati was featured in the HOT100 list by Architect & Interiors India, Stapati, being the only design firm in Kerala to have won both the recognitions in the same year. The 'Owner's Signature Villa at Enchanted Island Resort designed by Stapati has further been chosen as Seychelles' Leading Villa 2014 by the World Travel Awards.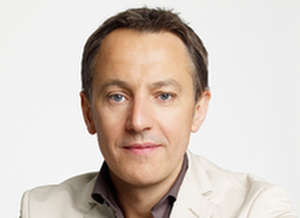 Paul Flowers
Global Senior Vice President of Design Paul Flowers
Paul Flowers, born in London 1972; graduated from The University of Northumbria (Newcastle) with a first class honors degree. During his diverse international career he has worked from small prestigious London design studios to some of the largest organizations in the world, including FM (UK), IBM (UK), Electrolux (Italy), Philips (Netherlands). In November 2005 he was appointed Vice President of Design for Grohe (Germany). During his productive career he has accumulated a plethora of prestigious international design awards including ID Magazine 1999 and 2000, Good Industrial Design Award 2001 followed by various red dot product awards from 2005 to 2013 including four "best of the best" in 2007, 2009, 2010 and 2011 and red dot communication awards in 2011 and 2014, numerous iF product awards from 2005 to 2013, iF China 2006, 2007 and 2010, iF communication award 2008, 2009 and 2012, iF Material award 2011, Good Design 2006, 2008 and 2010 to 2013 and Green Good Design 2010 to 2013, Perspective Award Hong Kong 2011 and 2013 awarded with the Trophy, Good Design Japan 2006 and from 2010 to 2013, Prix du Design 2008, Janus Award France 2008, Manufacturer Award 2008, Grand Design award UK 2009, IDEA Bronze in 2010, D&AD 2007 and 2010, the I.D. Annual Design Award 2010, Interior Innovation award 2011, the Design plus in 2005, 2007 and 2011, Designer Kitchen and Bathroom Magazine 2008 and 2012 Gold Award, European Consumers Choise in 2010 and 2011 and in 2011 the highest accolade of the red dot design award, the "Design Team of the Year 2011/2012". In 2008 Paul Flowers was included on the prestigious '40 under 40' list established by the European Centre of Architecture, Art, Design and Urban Studies, it recognizes the top 40 European creative talents under the age of 40. His portfolio includes TVs for Philips, e.g. Plasma TV, Design Line TV; cooking devices for Electrolux, e.g. Concept Plan, Concept Stack; refrigerators for Electrolux: Range and Lighthouse, GROHE Ondus, digital bathroom, Rain-showers, Workflow furniture. In his current position as Global Senior Vice President of Design Paul Flowers provides creative strategic direction for the GROHE brand worldwide.
Zafar Chaudhary
Zafar Chaudhary, an alumni of Chandigarh college of architecture 1992 batch. He is the Founder partner at Habitat Architects which is an leading architecture and interior architecture firm in the country.
The firm specialises in high end residential and commercial complexes including hospitality projects. Habitat architects enjoys a repute of a very high quality work firm with the finest detailing in the industry.
Zafar himself is a recipient of designer of the year award for the year 2012, also named as the top fifty architects AD-50, curated by architectural digest in the year 2014 who works with a very discerning eye and sensibility of an artist who is consequently creating the desired outcome for the client which transforms the patron's life into an ethereal experience of continuous discovery of his own house afresh every day.
Quoting Zafar – My spaces are very thoughtfully integrated with nature flowing in and out of the concrete spaces , this whole concept of green buildings comes to me most naturally and at a very basal level. My kind of architecture is holistic where built up area, spacial experience, interior nuances, play of various materials from concrete to wood to stone to fabric all have to bind like well honed musical symphony. It cannot be done in parts rather to move further it also needs to evoke an interplay of sensory experience that creates an architecture identity and also allows relationships between buildings built hundreds of years to that of today's creations.
Zafar believes that our piece of work would and should stand among these tomorrow bridging d gap between d past and d present. He says buildings, as I have learnt, should be reminiscent of organisms entering into a dialogue with surrounds, inscribing itself as an integral part of overall fabric.